Documents
This section contains a range of the documents that have been published by or are related to the partnership.  The documents automatically open when you click on the link.  Please note, you will need a copy of Adobe Reader on your device in order to open the individual files, if you decide to download them.

Housing & accommodation needs assessment for people with LD & MH
Population Needs Assessment – Report, June 2022

West Wales Market Stability Report (MSR)

West Wales Care Partnership Dementia Strategy

West Wales Regional Partnership Board Annual Report 2020-21
Every year the WWCP published an Annual Report setting out our achievements and progress made against our regional priorities. Click here to read our 2020-21 Report and find out more about the difference we are making to people needing care and support, and their Carers, across our communities.

WWCDG Carers Annual Report 2020/21
West Wales Regional Partnership Board Annual Report 2019-20
The fourth Annual Report of the West Wales RPB highlights our key achievements of 2019-20 and explains how we are continuing to transform and integrate care and support for different groups within our communities.
WWCDG Carers Annual Report 2019/20
Dementia Action Plan for Wales

West Wales Regional Partnership Board Annual Report 2018/19

WWCDG Carers Annual Report 2018/19
WWCP LD Housing and Accomodation Assessment

Assessment of Specialist Housing and Accomodation Need for Older people
West Wales Regional Annual Report 2017-18

West Wales Regional Annual Report 2017-18 – Easy Read Version
West Wales Area Plan 2018-2023

West Wales Area Plan 2018-2023 – Easy Read Version
West Wales Population Assessment – March 2017
Statement of intent for Older People with Complex Needs
Statement of intent for Learning Disability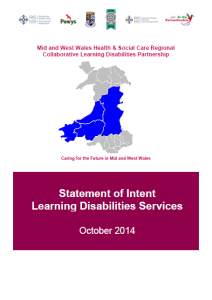 Model of Care and Support for Learning Disability
Market Position Statement for Older People's Services
Market Position Statement – Services for Older People
Appendix A Needs Analysis      Appendix B Market Analysis
Market Position Statement for Complex Needs
West Wales Regional Partnership Board Annual Report 2016/17